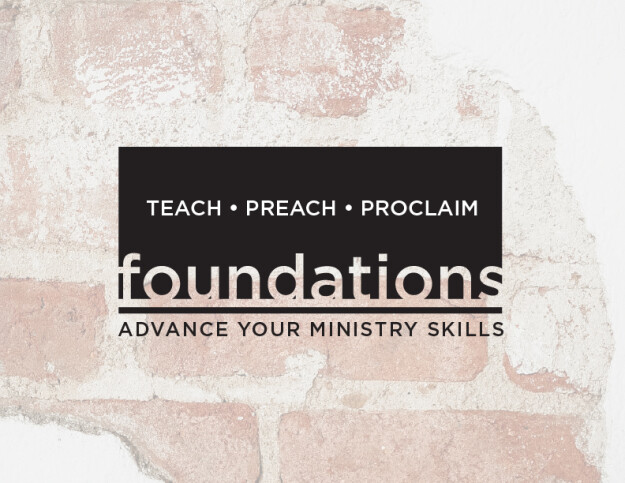 Foundations: Teach, Preach, Proclaim! by ADVANCE
Saturday, January 08, 2022, 8:30 AM - 5:00 PM
Foundations: Teach, Preach, Proclaim!
Foundations is an annual, one-day workshop for anyone desiring to be equipped with specific skillsets for ministry. This year's focus is on preaching God's Word. Participants will learn tools for preaching, teaching, and presenting the gospel in local churches and communities. Sessions will be offered in English and Spanish.
Foundations is hosted by ADVANCE at Gateway Seminary. ADVANCE offers affordable theological ministry training at a pre-college level in multiple languages at various teaching sites worldwide. To learn more about ADVANCE, please visit gs.edu/advance.
Course Credit: Anyone attending Foundations at Gateway's main campus in Ontario can apply to receive one hour of ADVANCE elective credit free of charge. We will also waive your ADVANCE application fee when applying for this elective credit. To apply and receive credit, please request a form during check-in the morning of the event. If you have more questions about credit, you can email .
Schedule
Saturday | 8:30 a.m. to 5:00 p.m.
8:30 a.m. – Registration Opens

9-10 a.m. – Worship & Devotion

10:15-11:15 a.m. – Session One

11:30 a.m.-12:30 p.m. – Session Two

12:30-1:30 p.m. – Lunch

1:30-2:30 p.m. – Session Three

2:45-3:45 p.m. – Session Four

4-5 p.m. – Session Five
Speakers:
Dr. Victor Chayasirisobhon - ADVANCE Director and Instructor | Pastor of First Baptist Church of Anaheim
Dr. Victor Chayasirisobhon is the new President of the California Southern Baptist Convention and the senior pastor of the First Southern Baptist Church of Anaheim. He has been pastoring for 26 years and leads a multiethnic, multigenerational ministry connecting 7 churches and a Christian school in the heart of Anaheim, California. Victor is a relational and passionate pastor who enjoys preaching and can't wait to share some but not all of his secrets in preaching with all of you, his family!.
Dr. Abel Galvan - ADVANCE Instructor and Adjunct Faculty, Gateway Seminary| Lead Pastor of Faith Fellowship in La Palma, CA
Dr. Abel Galvan has served in various ministry positions over the last 34 yearsn as a Youth/Young Adult Pastor, Interim Pastor, a Church Planter, Family Pastor, Seminary Professor and Senior Pastor. He is currently the Lead Pastor of Faith Fellowship in La Palma, CA. His love and passion is help people grow in their faith in fresh and creative ways.
Rev. Stacy Johnson - Pastor of First Baptist Church San Jacinto
Pastor Stacy Johnson serves as Senior Pastor at First Baptist Church of San Jacinto, CA, for 23 years. Stacy also serves with the North American Mission Board in their Church Planter Assessments in the role of Communication/Proclamations Assessor. Stacy has been married to his beautiful bride, Virginia for 30 years and together they have two amazing adult children, Anna and Drake. Stacy enjoys golf, reading, college football, and eating fried catfish.
Dr. Brian Kennedy - Associate Professor of Preaching, Gateway Seminary | Pastor of Mt. Zion Church of Ontario
Dr. Kennedy's life goal is to live out servant leadership among the Mt. Zion Church congregation, Gateway Seminary, and beyond to the end that God is glorified in His church by Christ Jesus (Ephesians 3:20 -21).
Dr. Jason Robertson - Adjunct Faculty Gateway Seminary | ADVANCE Director and Instructor | Pastor of Huntington Beach Church
Dr. Jason Robertson is the Lead Pastor of Huntington Beach Church. He has 30 years of experience in ministry. Jason is a pastor, church planter, and professor. He attended Liberty University and graduated from William Carey University, New Orleans Baptist Theological Seminary, and Gateway Seminary. He serves on the Board of Trustees of Horizon Pregnancy Clinic and the Executive Board and Advisory Board of the Orange County Southern Baptist Association.