Gateway Coronavirus Update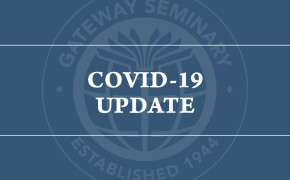 We continue to monitor the Coronavirus situation and would like to communicate some new information to you regarding seminary operations.
Update: August 2021 -- Policies for returning students and visitors
Students who are vaccinated: masks and social distancing are recommended.
Students who are unvaccinated: masks and social distancing are required.
If any state or local governing authority where a physical Gateway campus is located declares a mask or social distancing requirement for people in all indoor settings, the Seminary will cooperate and wear masks at that time.
Students who feel attending class in this environment is a risk to their health may adjust their schedules to remote access or online classes. Students with other special circumstances are advised to communicate with the to explore their options.
Update: July 1, 2020 -- Face-to-face instruction at Gateway to resume in Fall 2020
ONTARIO, Calif. -- On-campus instruction, following specific protocols, will resume during the fall 2020 semester at each of Gateway Seminary's campuses.
"We are committed to providing the highest level of educational delivery while following necessary health and safety guidelines for students and staff regarding the threat of COVID-19," said Jeff Iorg, president of Gateway Seminary.
The school is ready to meet current governmental guidelines on reopening and to implement additional best practices for students in face-to-face classes, Iorg said.
Measures include requiring students and staff to wear facemasks, practice social distancing, and do frequent hand-washing. New custodial practices to decontaminate shared spaces are in place, though some portions of the campus facilities in California will be closed to reduce the need for additional cleaning. The libraries at each campus will offer full services, but with limited study space available each day.
Most on-campus classes will also offer a video access option and some classes will be available exclusively through two distance learning formats – video access or online courses. Additionally, faculty, staff, and students are preparing to quickly shift face-to-face delivery to video access in case local or state governments enact more stringent regulations.
All events organized by outside groups at the Ontario campus have been cancelled for the semester. Gateway co-curricular events will be limited to less than 25 in-person participants. Chapel services have been canceled at the main campus.
"Our highest priority is to provide a safe and healthy learning environment for students at our campuses. We can best do that in these circumstances by limiting other programs and events," Iorg said.
"These are difficult decisions to make but our mission hasn't changed – we continue to shape leaders who expand God's kingdom around the world despite the present difficulties of the Coronavirus pandemic."
UPDATE: May 21 -- Gateway to offer limited face-to-face classes in summer 2020
Gateway Seminary will offer a selection of on-campus classes during the summer 2020 term.
"After considering many factors, including national efforts at reopening, we are announcing plans to re-open face-to-face educational delivery and campus workplaces from June 1 through July 31, 2020," said Jeff Iorg, president of Gateway Seminary.
The decision to re-open is complicated by various governmental jurisdictions in the four states Gateway operates in. Additionally, Gateway's campus building in Ontario, Calif., hosts three ministry partners as tenants and the campuses in Arizona, Colorado, and Oregon operate as tenants in buildings owned by the respective state conventions.
"As we move toward re-opening, employees and students are encouraged to be considerate of others who may, for various reasons, be very sensitive about the threat of COVID-19 to themselves or their families," Iorg said.
The classes being offered are short-term intensives and will be restricted to 10 on-campus participants in each classroom. Students will be required to wear face masks while on campus and to practice social distancing. Students at each campus will still have the option to attend summer classes remotely. Iorg said this approach will allow the seminary to test procedures and prepare a full return to face-to face instruction in Fall 2020.
The libraries at the Ontario and Fremont campuses will provide services but study areas will remain closed. No large group events will be allowed through July 31, 2020. Employees who have been working remotely have been encouraged to continue to do so.
Fall 2020 plans will be announced later in the summer.
UPDATE: April 24 -- Commencement Cancelled for All Campuses
Gateway Seminary has canceled commencement services at all five campuses in May 2020.
"While we delayed making this decision as long as possible, there are still too many uncertainties in the multiple locations where we have campuses and commencement activities," said Jeff Iorg, president of Gateway Seminary.
Spring commencement is held at each of Gateway's campuses in Arizona, Colorado, Washington, Northern California and Southern California. Staff in each region are developing plans to recognize graduates in accordance with local COVID-19-related restrictions. Additionally, graduates have the option to participate in commencement services of the 2020-2021 academic year.
Commencement fees will be refunded to students who had already paid the Seminary.
"Graduation is a significant step in a student's education, but it actually occurs when academic requirements are met and financial accounts are finalized – not at a public ceremony." Iorg said.
"While graduates may not walk across a stage, they will still be Gateway graduates."
March 20 -- Gateway remains operational under California's stay home order
On Thursday, Governor Gavin Newsom ordered California residents to stay at home indefinitely in response to the novel Coronavirus. Educational institutions facilitating distance learning, like Gateway, are allowed to remain operational during this time.
"After the safety of our employees and students, our first priority is maintaining the delivery of our educational program," Iorg said. "We are prepared to pursue our mission while accommodating Governor Newsome's order."
A limited number of employees in technology support, student services, finance and security roles are working at Gateway's two campuses in California. Many other employees are continuing to work from home.
"Any change presents difficulties, but we expect to carry on our day-to-day processes," Iorg said.
Gateway's new campuses in Ontario, Calif., and Fremont, Calif., were designed to incorporate innovative educational technology. These tools have allowed faculty to deliver class content exclusively through synchronous video lectures and online platforms with virtually no disruption. "During our relocation efforts a few years ago, we reinvented our course delivery methodologies," Iorg said.
"Extensive training and the integration of technology in our classrooms prepared our faculty to respond quickly and effectively in this crisis. No classes have been cancelled at Gateway Seminary."
Gateway campuses in Arizona, Washington and Colorado continue to operate under local directives in place in those locations.
---
UPDATE: March 16 -- While we had anticipated waiting until next week to announce our plan for the rest of this semester, the urgency of the changing situation and the need to provide as much lead time as possible to implement these changes before we return from Spring Break has motivated us to make this statement now.

Here is some important information regarding seminary operations, effective today through the dates mentioned below.

Course Delivery – There will not be any face-to-face classes through May 31, 2020 at any of our five campuses. Those classes will now be delivered by video access. The online program classes will continue without any changes. Teaching sites and Advance Centers will operate based on the policies of local hosts.

Libraries – Libraries at all five campuses will remain open, but with limited hours and some operational details unique to each location. Information will be posted for each campus at library.gs.edu/hours. This may change often so check the website before you come to a campus library.

Employees – All employees should continue to report to work. Employees who need to work remotely should consult their supervisor or Vice President. Employees should not come to work if they have any flu-like symptoms. Essential employee/work meetings will continue as needed (faculty meetings, committee meetings, staff/employee meetings, etc.).

Public Events – All seminary public events (chapel, conferences, etc.) and events hosted for other groups on any campus are canceled through May 14, 2020.

Travel – All seminary funded travel is suspended through May 14, 2020. Exceptions must be approved by a Vice President.

Graduations – We hope to resume public events on May 15, 2020 in time for graduations at all five campuses.
---
March 12 -- We continue to monitor the Coronavirus situation and would like to communicate some new information to you regarding seminary operations from today through March 29, 2020.
In considering our seminary calendar, we currently have classes scheduled next week followed by spring break. Therefore, the following guidelines are in place through March 29, 2020. We will then reevaluate our procedures and announce a plan for the rest of the semester based on circumstances as they develop.
First, we are concerned for family members of our students and employees who may be impacted. Pray for them and be sensitive to them as they handle these issues.
Second, if you have respiratory-ailment symptoms, stay home. Get medical care. Take reasonable precautions to limit contact with others. We will accommodate students and employees who take any necessary precautions to care for their health.
Third, from March 16 through March 29, 2020 we will deliver all face-to-face classes by video access, through alternative assignments by the professor, or class sessions may be canceled by the professor. There will be no face-to-face class meetings during this time. Online classes will continue as planned.
Fourth, all seminary employees should continue to report to work. Requests to work remotely may be approved, as necessary, by your supervising vice-president.
Fifth, all other seminary-related events are cancelled through March 29, 2020 - apart from classes as described above.
Sixth, all non-essential seminary-related travel is cancelled through March 29, 2020 – exceptions must be approved by your supervising vice-president.
Finally, student housing is unaffected – no policy changes at this time.
We will continue to monitor circumstances as they develop and announce plans for the rest of the semester by the time we return from spring break.