Our Staff
« Back to Staff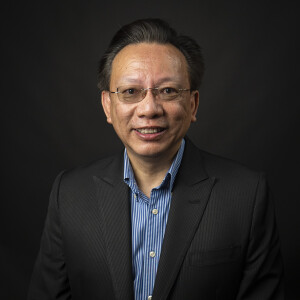 Dr. Martin Chien is senior professor of leadership formation at Gateway Seminary. He is originally from Taiwan and graduated from Tamkang University before obtaining his master of church music at Golden Gate Baptist Theological Seminary. Dr. Chien then moved to Texas with his wife, Mimi, to earn his D.M.A. at Southwestern Baptist Theological Seminary.
In 1999, God called Dr. Chien and his family to return to Taiwan as missionaries. His academic background combined with missionary passion led him to serve as a music and worship pastor, professor, program director, department chair, and dean, establishing multiple relationships with churches and schools. He has spoken, performed, and trained throughout Asia. Dr. Chien has equipped over a thousand students including pastors, professional musicians, and worship leaders around the world in English and Mandarin.
From 2013 to 2015, he was elected as chairman of the Taiwan Guitar Society, presiding over all national and international events pertaining to guitar. Through his two instrumental albums, Journey in 2009, and Expression in 2016, Dr. Chien has been able to tour to more than ten countries, perform over five hundred concerts exceeding a hundred thousand people and witness more than ten thousand people come to Christ.
Dr. Chien is passionate about training Christian leaders for service in every capacity, and challenges students from all walks of life to always offer excellence unto God. He enjoys cultivating each student's individual strengths through discipleship that they may be equipped to reach the lost world for Christ and become fishers of men.
Dr. Chien and his wife Mimi have two children, Shannon and Joseph. Shannon is studying marriage and family therapy at Northwestern University and Joseph is a culinary specialist serving in the US Army.
Degrees and Accolades
D.M.A., Southwestern Baptist Theological Seminary
M.Mus., Golden Gate Baptist Theological Seminary
B.A., Tamkang University