Last Thursday, in a remarkable way, God visited our chapel and called us to visible response to His Word at work in our lives. Dr. Benny Wong, pastor of First Chinese Baptist Church of Los Angeles, preached a powerful message on our responsibility to participate in and lead corporate prayer. You can access the message here.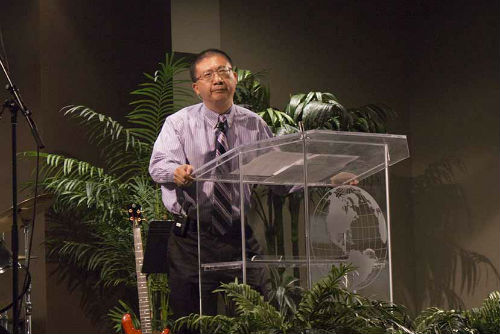 Dr. Wong traced a series of corporate prayer meetings through Acts, outlining what happened in each one and what we could learn about leading similar experiences. His message was also personal as he confessed his prior shortcomings in this area and how his church has changed over the past few years as he learned how to lead corporate prayer meetings. One of our longest serving faculty members later remarked he had never heard such a reasoned, passionate, practical presentation on corporate prayer. While many messages focus on private or personal prayer, the dynamics of praying together are different and not as frequently taught.
When the message ended, it seemed we needed to practice what had just been preached. We asked people to respond - not by praying individually but by asking a few people to form a spontaneous prayer group. Dozens of people moved to the front of the room, formed into groups, dropped to their knees and starting praying. Several were weeping openly, some sobbing, as we cried out to God for his intervention in our lives. It was precious, holy time for Gateway Seminary in our new chapel.
We are making an intentional effort to make chapel available to our widely-dispersed student body and other constituents. You can access the entire service through a live webcast every Thursday at 11:00 a.m. Pacific Time. You can also access only the chapel message at your convenience (beginning the following morning) on our website.
Our chapel speaker this week is Matt Brown, Pastor of Sandals Church in Riverside, California. Matt started Sandals church in his dorm room about 18 years ago. Now, about 6,000 people gather each weekend in multiple services and locations in our area. Matt is a Gateway graduate and we invite you to join us Thursday for another invigorating worship experience.