Easter is coming! Christians – devout and nominal alike – will gather in droves this coming weekend to celebrate the resurrection of Jesus Christ. It's the most significant tenet of our faith and the central event in human history. Imagine – a dead man coming back alive! It really happened and that reality changes everything.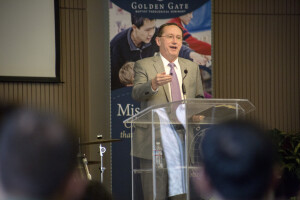 I was thinking recently about how my life might be different if the resurrection never happened. My life would be a train-wreck. I would be addicted to something (based on my family history and compulsive tendencies) and probably disheartened by the disastrous impact on my family. I would probably be divorced – no way any reasonable person would have put up with my arrogance and self-centered choices. I would likely have burned through multiple careers trying to find satisfaction from sources sure to disappoint. My imaginations were not a pretty picture!
You might think, "Jeff's just having a pessimistic moment." Not really. After close to 60 years, I know myself and have watched men a lot like me live in similar ways described above. I wish it were not so bleak – but if I'm being honest that's my best appraisal of what might have been.
The good news for me is Jesus was resurrected, validating his claims as the Son of God and Savior of the world. When he came into my life, he changed me in the moment. He also changed the trajectory of life and assured me eternal life. What might have been has been replaced by what is – and that's both humbling and gratifying.
During this Easter week, try this mental exercise to help personalize the resurrection. Imagine your life if the resurrection had not happened. Imagine your life if the resurrection had not become real to you through a personal relationship with Jesus. Then, thank God for the difference. Make this weekend more than a perfunctory display of religious habit. Make it a personal celebration of the resurrection – your resurrection to new life in Jesus.