In Memoriam, Billy Graham
Billy Graham was a supreme example of gospel graciousness. He never wavered from emphasizing the gospel – in its simplicity and beauty – no matter the pressures, criticisms, or distractions. His primary legacy is millions of people who are Christians because of his faithful witness. His leadership example of statesmanship with integrity is also part of this legacy.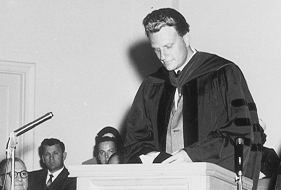 I only heard Mr. Graham, as he preferred to be called, preach once in person. Our church participated in his Portland, Oregon crusade in 1992. I sat in an overflow area and was disappointed at the inattentiveness and restlessness in our remote location. And then, in a moment of supernatural power, Graham starting inviting people to respond to the gospel – and they did. It was clearly God's work, not Graham's charisma, organizational skill, or the holiness of the venue. People all around me starting streaming forward to commit themselves to Jesus. Many lives were changed that night, including mine.
When Gateway opened in Southern California, the Billy Graham Library was kind enough to loan us several artifacts from past Los Angeles crusades. We have them on display in our chapel as a way of connecting our arrival with the legacy of evangelism and Christian ministry in this region over the past century. In the last few weeks, students in an evangelism class led 12 people to faith in Christ. While those students may not become crusade evangelists, all of them can and are leading people to faith in Jesus.
Thank you Billy Graham for your legacy of gospel-focus, personal integrity, even-tempered counsel, and love for people all around the world. In a thousand smaller ways – but with the same eternal message – may the Gateway family accelerate the gospel-centered ministry you modeled so well.