We have now recognized the first graduates with Gateway Seminary on their diplomas. It was an exciting group of students. Some delayed their graduation so they could be in the first Gateway class. Others accelerated their academic progress so they could also be in the first class. Either way, they were all passionate about being "Gateway" graduates.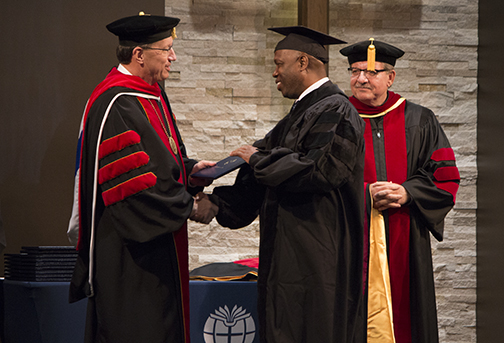 Since we also had so many students who timed their graduation to be in the last Golden Gate class last Spring, the first group of Gateway students was smaller than we normally have in a Winter commencement ceremony. We capitalized on the intimacy of the event and had it in our new chapel on the Ontario. This may be the only time we are ever able to do this – adding to what made it an historic celebration.
Just before the graduation, I received a letter (with a gift of a book he had recently written) from a 1958 graduate – when the seminary was still in Berkeley, California. In his letter, he reminisced about his seminary training and thanked me for how it had prepared him for a lifetime of effective service. He had preached all over the world – starting churches, making disciples, and teaching people how to live their faith. While he was never well-known, he was certainly busy!
In his letter, he mentioned recovering from a recent serious illness and then referenced the book he had written. One particular sentence caught my eye. He wrote, "I had to minister in some fashion while I was down." That's the Gateway spirit! Even while recovering from a serious illness, he had to find a way to keep sharing the gospel – hence he wrote a study manual about the life of Jesus.
My hope for the most recent Gateway graduates is simple – be as passionate as your predecessors and find a way to share Jesus, no matter what. Thanks Bro. Lindsey Nimmons for your life, your example, and your perseverance.