'Who do you follow' question leads to division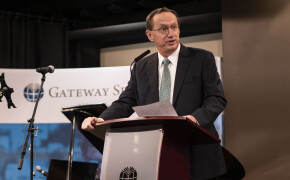 "Christian celebrity is an oxymoron," said Dr. Jeff Iorg, president of Gateway Seminary.
"Christian celebrity is an oxymoron," said Dr. Jeff Iorg, president of Gateway Seminary. "Those two words should never go together in a sentence. Yet, too many of us emulate the worldly pattern of venerating Christian leaders, producing sectarianism, tribalism, denominational strife and church conflicts."
Iorg spoke on the topic "Christian Celebrities and Childish Followers" during President's Convocation Jan. 31 on the Ontario campus as classes opened for the spring semester. Students, faculty, staff and area pastors attended the event, as well as a global live stream audience.
He said social media has codified the Christian celebrity idea with the question 'who do you follow?' but importing this worldly behavior into the Christian community can be detrimental. Speaking from I Cor. 1:3-9, Iorg pointed out this behavior only seems new because of today's technology, but it is an age-old problem.
"Some Christians behave in childish ways that signify immaturity," he said. "Immature Christians relate to leaders in unhealthy ways."
He cited Paul describing immature behavior as being envious of popular leaders, leading to strife.
"Followers are jealous of the successes of some leaders and attack them for supposed fallacies in their approach. Attempting to tear down others, we only denigrate ourselves. Immature Christians venerate leaders and create factions."
Examples of this include triangulation to find security in a group, categorizing people to establish our identity and posturing to promote status. These are popular ways the error of "I follow Paul" expresses itself among believers today.
In contrast to the warnings in this passage, Iorg also pointed out "The same author, on multiple occasions, wrote 'follow my example.'" Christians follow a leader's example by examining the whole of his or her life, learning from both strengths and weaknesses.
"Following the example of a leader in a healthy way requires observing the totality of a leader's life, not the facade presented in social media," he said. "We should learn from a leader's shortcomings and successes."
Iorg said a mark of maturing Christians is they relate to leaders in healthy ways. He pointed to verse 5, summarizing Paul's counsel that leaders are servants, channels of the gospel and appointed to their tasks by God.
"The Bible tells us God has the priority role in ministry success," he said. "God is always the owner of a ministry, but we are his co-workers, his field, his building. He's the one who produces ministry success."
He said maturing Christians also accept and value their secondary role in ministry.
"We value our secondary role," he said. "While it is a lesser role than God's, it's still a vital role. We serve God, not ourselves, and take care not to avoid role confusion."
Iorg ended by challenging the Gateway community to mature in their relationship to popular leaders, learning from their example but not venerating them to the point of tribalism or factionalism.
-30-