Merida: Make 'Life Changer' focus of sermons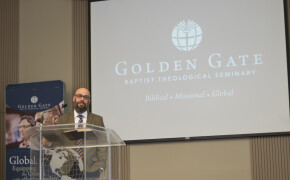 Tony Merida challenged students during a series of preaching lectures at Golden Gate Baptist Theological Seminary to "make the Hero of the Bible the hero of your sermons."
MILL VALLEY, Calif. March 22, 2016 -- Tony Merida challenged students during a series of preaching lectures at Golden Gate Baptist Theological Seminary to "make the Hero of the Bible the hero of your sermons."
Merida, associate pastor of preaching at Southeastern Baptist Theological Seminary, spoke during the Golden Gate's Hester Lectureship March 16 and 17 on the topics "Preach the Word: A Renewed Vision of Preaching" and "Him We Proclaim: The Need for Christ-Exalting Exposition."
"When I was in seminary, [we used to say] that we need to preach life-changing sermons," said Merida, also founding pastor of Imago Dei Church in Raleigh, N.C. "There's nothing wrong with life-changing sermons, but you can't preach life-changing sermons if the Life Changer is not at the center of those sermons. Keep the Life Changer at the heart of those sermons."Tony Merida
He said it's not that preaching about morality is bad but that morality is insufficient and that lifting words out of Scripture removes the authority from the text.
"What makes Christianity distinctive is the Christ," he said. "There are good men who love Jesus who can preach Christ-less sermons. But are they making the Hero of the Bible the hero of the sermon?"
Merida called for a renewed vision of preaching that encourages young men to become pastors, to answer a unique calling to a congregation.
"I see a lot of seminary students. I ask how many want to preach in the local church, and the numbers are dropping," he said. "We used to try to talk people out of preaching; now we're trying to talk them into it. I'm really concerned about this lack of interest. I want to raise up and deploy ordinary pastors who love people, want to preach the Gospel and who saturate their congregations with a love of the Gospel. We don't need any more conference speakers."
Merida reminded the audience that God builds His church by His Word and that we show how we think about the Bible by how we use the Bible. He noted that there are many preachers who affirm the inspiration of the Bible but fail to deliver Bible-saturated sermons on a week-to-week basis.
"You might build a crowd based on personality, but you can't build a church," he said. "We are brought to life by the Word, we are matured by the Word. Other religions have preachers; other religions have missionaries. What makes us different is what we preach. Paul tells us to preach faithfully."
He acknowledged there would be times when preaching feels like a hopeless exercise, and there may be weeks that you ask "is this doing anything?"
"Preach with complete patience anyway," he said. "You have to trust the cumulative effect of preaching, of why we're doing all this. It's like feeding your kids. They might look the same today as yesterday, but when you see their pictures on the stairway, you say 'they've grown.' We need to meditate God's patience with us. We need to work the Gospel deeply in our lives."
Merida also called for preachers to work hard at their craft to improve:
"As long as we have breath, we're in this to improve," Merida said. "Our subject is so much bigger than ourselves. God has entrusted this treasure to we fallen people. My concern when it comes to this issue is not a lack of the Bible, it's a failure to saturate every sermon with the Message."
The Hester Lectureship on preaching at Golden Gate Seminary is funded by an endowment created in 1969 by the late Dr. H.I. Hester, a longtime professor of Bible and head of the department of religion at William Jewell College in Liberty, Mo.
-30-