JEFF IORG: GATEWAY SEMINARY REPRESENTS SBC INVESTMENT IN THE WEST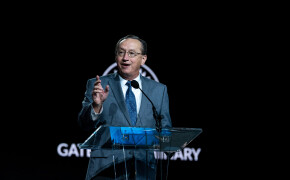 Gateway Seminary President Jeff Iorg described the legacy of faithful investment in the American West through Southern Baptist support of the school at the 2022 annual meeting in Anaheim, California.
ANAHEIM, Calif. - Gateway Seminary President Jeff Iorg described the legacy of faithful investment in the American West through Southern Baptist support of the school at the 2022 annual meeting in Anaheim, California.
"Gateway was founded as Golden Gate Southern Baptist Theological Seminary in 1944. We were adopted by the Southern Baptist Cconvention in 1950 and aspecial financial gift from the estate of William Conover, funneled through the SBC Executive Committee, saved our school in 1952," Iorg said.
"Why did Southern Baptists go to such lengths 70 years ago to support a school on the West Coast when we were still very much the Southern Baptist Convention? Because Gateway Seminary was a denominational down payment on becoming a national movement."
Being the only Southern Baptist entity in the western half of the United States, Gateway's regional reach is expansive. Its main campus has always been in California—originally in the San Francisco Bay Area but in the Los Angeles area since 2016—with extension campuses established in Washington, Colorado and Arizona, as well as a second California campus, between 1973 and 1996.
"If you drove to visit all five (Gateway) campuses, you would drive farther than if you made the same trip to visit the primary campuses of the other five SBC seminaries."
However, Iorg said being a Western seminary is about much more than geographic expansion. He said it is about "thriving in this culture where we live and training people to work in (a western) context."
Iorg shared three distinct ways Gateway pursues that goal.
"First," he said, "we have allowed our context to shape our academic program."
"We have allowed this context to shape how we teach everything from preaching to theology to counseling to reflect the challenges of ministry in the West."
Additionally, Iorg said Gateway often hires faculty who are either from the West or who have significant ministry experience in the region.
The second point Iorg shared is that Gateway has embraced being a multicultural ministry.
"We embrace the diversity of our community – not because it is politically correct – but because it is biblically mandated," he said.
"About two-thirds, that's about 65% of our students, are not Anglo. Think about that statement in your context. If you are an Anglo from the South, you are likely accustomed to being part of the majority community."
"You would be a minority if you came to Gateway Seminary," Iorg said.
The third distinctive Iorg shared about Gateway is its role as "a forerunner among Southern Baptists on key culture issues."
"In the West, we are not part of a post-Christian culture. We live in a never-Christian culture," he said.
Iorg specifically referenced three issues of which Gateway has made strong, biblical stances: racial diversity, marriage and gender and sexual morality.
"Our first full-time African-American faculty member was elected by our Board in 1987. The first Asian joined our executive leadership team in 1993. We had the first African-American Board chairman in SBC history in 2007," he said.
"We have current employees who are African-American, Mexican, Romanian, Chinese, Korean, Pacific Islander, Filipino, Australian, Taiwanese, and Anglo. Gateway has been a forerunner on promoting diversity among Southern Baptists."
Gateway's primary campus was still in the Bay Area when the city of San Francisco began to authorize same-sex marriages. "We spoke out strongly against this devastating social policy change," Iorg said.
"In 2013, we were the first SBC seminary to host a major conference on ministry in the new marriage culture. The following year, our faculty produced, as far as I know, the first book helping ministry leaders navigate this cultural quagmire."
Iorg continued by sharing Gateway's stand on gender and sexual morality despite living "in the shadows of Hollywood and Haight Asbury."
"While the pressure to conform is enormous, we have not and will not change our position on these issues."
Iorg concluded by thanking messengers for their continued support of Gateway Seminary.
"While we are delighted to report our progress, we know we could not have become the school we are today without national support. Over the years, there have not been enough Southern Baptists in the West to build Gateway Seminary to its present strength."
"Thank you for standing with us and for all you mean to us. And, thank you again for coming to California!"
-- 30 --