Iorg presses graduates to 'stand firm' at Gateway commencement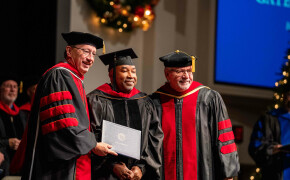 Gateway President Jeff Iorg urged graduates to "stand firm" in the gospel at the Seminary's winter commencement ceremony December 11. PHOTO: Presidential Leadership Award winner Clifford Jenkins receives his doctoral diploma from Iorg (left) and program director Jim Wilson (right).
ONTARIO, Calf. (Dec. 13, 2021) - Gateway President Jeff Iorg urged graduates to "stand firm" in the gospel at the Seminary's winter commencement ceremony December 11.
His charge drew from Philippians 3:17-4:1. "Your responsibility as a ministry leader," Iorg said, "is to stand firm in the face of opposition and the onslaught of difficulties in our world."
Iorg shared two resources from the biblical text graduates could rely on for strength and direction.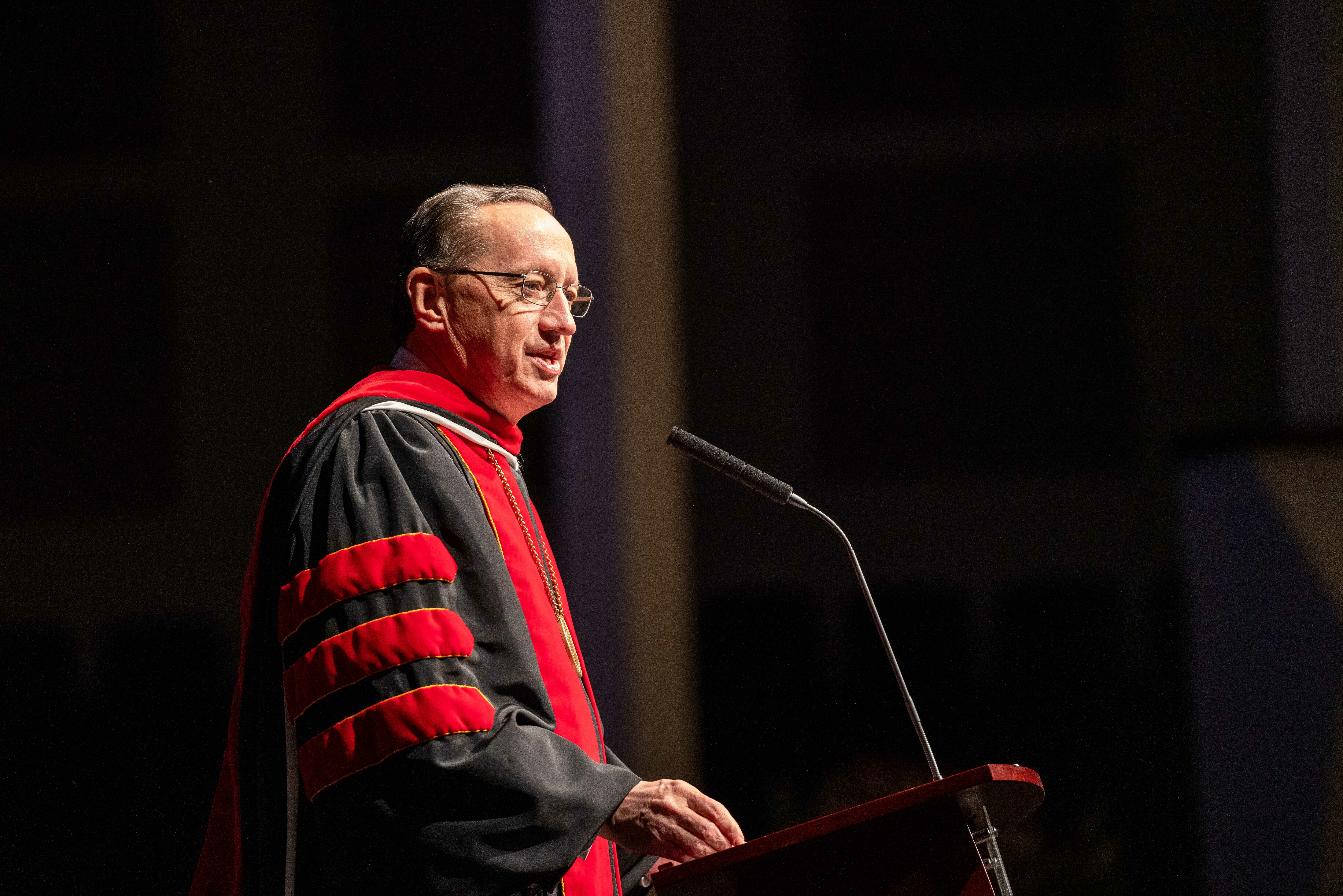 "The first one may surprise you: Stand firm by depending on other believers," he said.
The first category of believers Paul instructed the Philippians to depend on was himself and those who modeled themselves after him.
"Paul says you will stand firm when you pay attention to the example of veteran leaders who have gone before you who have themselves stood firm," he said.
"By their example you can draw encouragement, strength, direction, and courage to get the job done in your generation."
In addition, Iorg told graduates to "not only draw on the example of those who have gone before but draw on the relationships of people around you right now." Iorg pointed out the warmth with which Paul described the Philippian church: "My dearly loved and longed for brothers and sisters, my joy and crown" (Philippians 4:1, CSB).
He shared a personal story about the strength fellowship can engender. In 1994, Iorg was diagnosed with cancer. On the morning of a quickly scheduled surgery, Iorg found three couples from his church waiting for him in the hospital. He was surprised and asked why they were there so early.
"All three stood up, and one answered the question, 'Why, we're standing by,'" Iorg said.
"I looked at those six people, smiles on their faces and determination in their eyes. They had gotten up early and come to the hospital just to tell me 'Pastor, we're standing by. Whatever you need, whatever happens, whatever this means, we're by your side.'"
"Graduates, stand firm by drawing on the significant relationships in your lives," Iorg said.
The second resource, Iorg said, is maintaining "an eternal perspective on our ministry and lives."
He shared a recent ministry story about the confusion some believers have about ultimate loyalties.
A pastor was confronted by some church members who wanted the American flag displayed in their worship center beside the cross. When asked why, one replied, "Because the flag and the cross mean the same thing to me." Iorg then declared, "I am a proud American, grateful for the good our country stands for and accomplishes in our world. But as ministry leaders, don't make the mistake of thinking the cross and the flag are the same. Our ultimate allegiance is to Jesus and what the cross means in our lives and ministries."
Iorg continued, "I am a citizen of heaven and when decisions have to be made about my loyalties, about my obedience, my response is going to be to obey Jesus and his Word."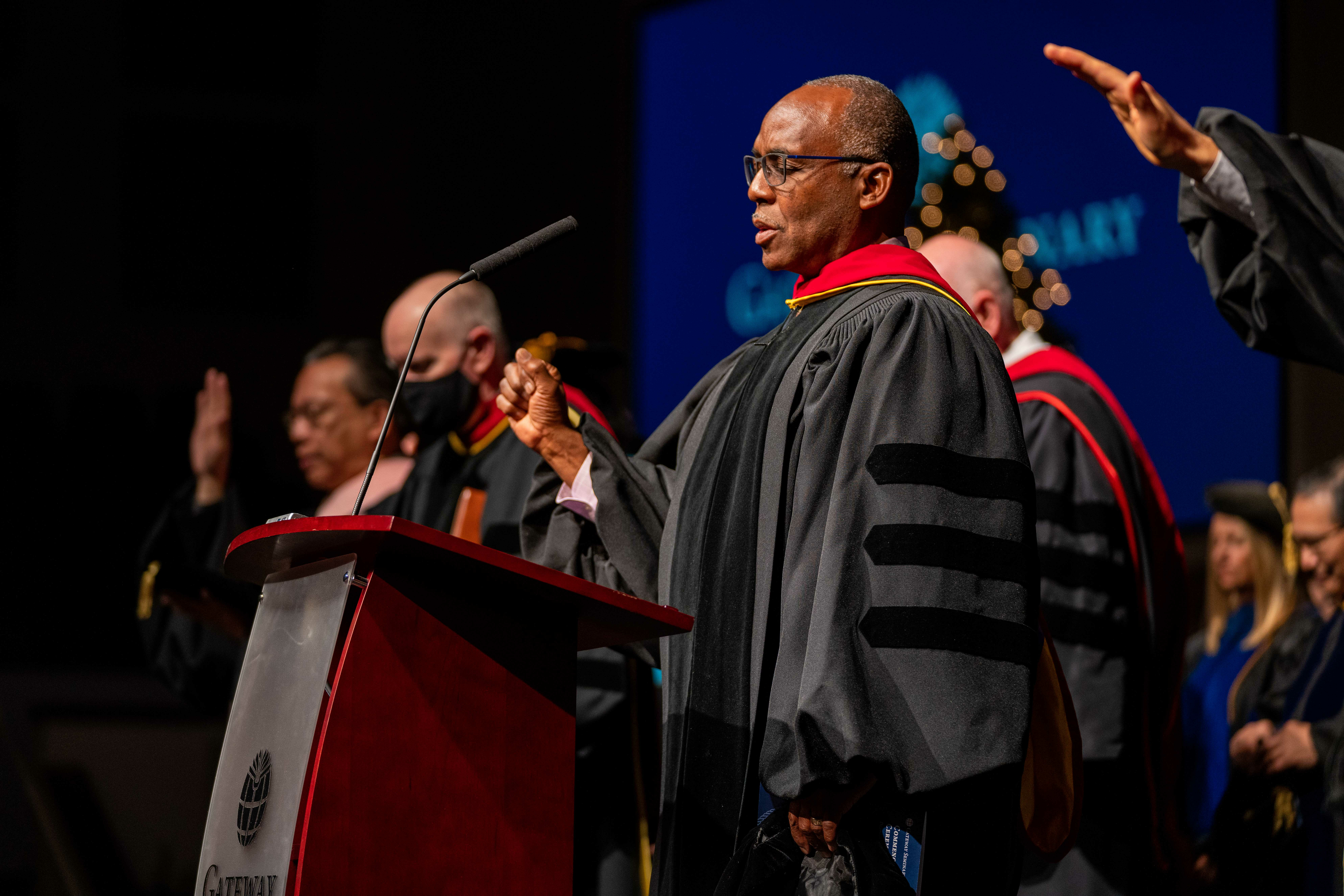 "Graduates, stand firm with an eternal perspective because even if you are overwhelmed in the moment, and even if it costs you your life or your livelihood, you have nothing to fear. You will have lost nothing because you have eternal life forever in heaven, with the Savior of the world, Jesus Christ."
Three students, Clifford James Jenkins, Carola Fernanda Manriquez Pozo, and Stephen Paul Baum, received the Presidential Leadership Award, named for former Gateway President William O. Crews. It is the highest honor given to students at Gateway.
Jenkins is director of multiplying churches for Baptist Resource Network Pennsylvania/South Jersey and state director of missions in Pennsylvania and South Jersey. He graduated with a Doctor of Ministry and his project was on launching a multiethnic church planting initiative in the area he serves. Manriquez is on staff at Gateway Seminary and 11th Street Baptist Church in Upland, Calif. She earned a Master of Theology and her thesis was titled Repentance in the Ancient Near East and the Bible: Transactional or Relational. Stephen Paul Baum is pastor of First Baptist Church West Albuquerque, NM. He completed the Doctor of Ministry and wrote on equipping men to advance a culture of disciple-making in the local church.
--30--