Iorg illustrates restoration is possible through repentance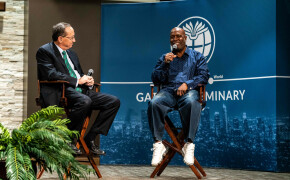 Gateway President Jeff Iorg opened the seminary's chapel series on February 3, 2022, by describing the significance of the semester's theme: the Minor Prophets. "The message of the Minor Prophets is needed right now, in our world," he said.
ONTARIO, Calif. -- Gateway President Jeff Iorg opened the seminary's chapel series on February 3, 2022, by describing the significance of the semester's theme: the Minor Prophets.
"The message of the Minor Prophets is needed right now, in our world," he said.
"Their message is simply this: Rebellion and brokenness abounds but repentance and restoration is always possible."
He illustrated his message by inviting a guest on stage to share his testimony of God's restoration.
Iorg's guest was Kelvin Aikens, who earned a Doctor of Ministry at Gateway in 2016 and is pastor of the South Campus of Mt. Zion Baptist Church. Iorg and his wife Ann are members of Mt. Zion and are part of Aikens' congregation.
As a young man, Aikens produced and distributed illegal drugs, specifically PCP. "I made a lot of money; so much money that I was burying it in my mother's backyard because I didn't know what to do with it," Aikens said. His operation became so large the Los Angeles Herald Examiner featured it as part of a two-week exposé into the drug industry.
He eventually was arrested and sentenced to five years in prison. After his release, he attempted to lower his profile and only produce PCP when in need of money. He and his wife planned to use the proceeds from selling drugs to start a legitimate business renovating and selling properties. However, Aikens and his brother were arrested transporting PCP. This time he was sentenced for eight years. One day in his cell, he watched his brother crying and praying on the floor. His brother was a Christian who had backslidden Aikens said. "Before I knew it, I was on the floor next to him giving my life to Christ. That was May 31, 1986," he said.
Aikens and his brother spent their days studying the Bible. "I remember telling people in prison that I was happier than I ever had been in my life," Aikens said. When he was released, Aikens struggled to find a job. A fellow church member helped him get hired as a contract worker at a hospital in Los Angeles. He pursued civil service tests, earned a bachelor's degree in finance and eventually was hired for a position in the LA county auditor controller office.
Over the next 12 years, Aikens received nine promotions. Eventually Aikens managed a team of 22 accountants and additional support staff that was responsible for calculating the $18 to $20 billion tax revenue of the 2.3 million properties in LA county. And still, at the height of his career, God called Aikens even further in restoration.
While pursuing a Doctor of Ministry student at Gateway, Aikens felt God drawing him to "step out in faith," by leaving his county job and committing to ministry. He retired early, giving up significant potential retirement earnings, to start a new campus for Mt. Zion.
Iorg described Aikens as a model of the core message from Zephaniah. "[Aikens] is the kind of person [Zephaniah] was talking to; a fellow who ran a drug industry, went to prison twice, but came out of that in repentance, asking God to make something different out of his life," Iorg said.
"I'm thankful to God, I really am, that sin leads to judgment, because that motivates us to repentance. And repentance gets us to restoration."
In his sermon, Iorg shared five principles to help preachers approach the Minor Prophets generally, then illustrated those principles by applying them to Zephaniah.
First, he said, is "to summarize the historical context but don't get bogged down in too many details." Church members spend their weeks dealing with challenging jobs and stressful lives - they don't need a "lecture about the Edomites, the Hittites or the Assyrians," he said.
"They want to know why the message of the Minor Prophets matters to them right now."
The second principle is related to the first. Iorg encouraged listeners to "acknowledge the interpretive issues" in the text but focus on sharing "straightforward conclusions." He said church members want to know their pastor has engaged the text deeply but they need to hear the ends of that study - convictional truths from the biblical text.
Third, pastors must recognize the linguistics and stylistic forms present in the Minor Prophets. "When we read their language, we have to recognize that it's poetic," Iorg said. "And if I can say it this way, it's preacher talk. It's still real, it's still valid, it's still true, but you have to understand the literary forms."
The fourth principle is to communicate major ideas; to "focus on the big ideas the prophet was communicating," he said.
The final principle is to contextualize the message to a modern audience with care. "Be careful about applying the words of the prophets in literal detail to contemporary situations," he said.
Iorg summarized Zephaniah in his sermon by highlighting the imminent threat of God's judgment on sin and the bountiful restoration God offers to those who repent.
"There is no doubt sin is destructive. Evil is harmful. People in our world are broken because of all of this," he said.
"But my friends, we have a message for people headed toward judgement: repent. And when you repent, restoration is always possible."
Iorg's message is available to view here.
--30--