Gateway trustees approve 23-24 budget, hire new faculty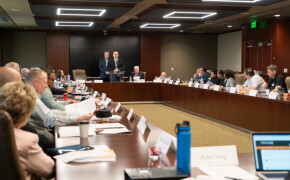 Gateway Seminary trustees approved the 2023-2024 budget of $12.52 million and hired two new faculty members at the April 25 board meeting.
ONTARIO, Calif. -- Gateway Seminary trustees approved the 2023-2024 budget of $12.52 million and hired two new faculty members at the April 25 board meeting.
The upcoming academic year's budget represents a 2% increase over the current one.
Trustees appointed two new faculty members.
Benny Wong will serve as associate professor of leadership formation and director of the Chinese-English Bilingual program. Wong earned his doctor of ministry degree from Gateway Seminary and led First Chinese Baptist Church Los Angeles (FCBCLA) as senior pastor for 26 years.
"Dr. Wong joins Gateway as an accomplished and seasoned leader. FCBCLA is not only a significant Los Angeles congregation; Dr. Wong has led the church to a position of great international influence," Gateway President Jeff Iorg said.
"We look forward to the leadership, experience and wisdom Dr. Wong is bringing to Gateway Seminary."
Trustees elected Phil Hopkins as professor of missions. Dr. Hopkins earned a Ph.D. in applied theology from Southeastern Seminary and a Ph.D. in Iranian history from the University of St. Andrews. In 2019, Hopkins began teaching at Gateway as professor of church history.
"Dr. Hopkins represents what I love about Gateway Seminary; the combination of strong academic work and practical cross-cultural gospel training," Iorg said.
"He has proven himself as an exceptional academician whose heart is for the mission field."
Dr. Iorg reported to trustees four significant donations the Seminary recently received.
A donation of $2 million established the GoGrant fund, an endowment that will give every qualified Gateway student the opportunity to go on a short-term mission trip through the Beyond Program.
The Seminary also received an endowment bequest from the estate of Leo and Joanna Rollins of $589,000.
Gateway professor Michael Kuykendall and his brother, Terry Kuykendall, donated an extensive Bible collection to the school for both research and display purposes. The collection has about 1,400 volumes, including a 1611 "He" Bible, a 1612 "She" Bible, a 1549 Matthew Bible, and an early Saur Bible, one of the first Bibles printed on American paper.
Additionally, Ken and Barbara Larson donated a Torah Scroll through their non-profit ministry, God's Ancient Library. It is 150 years old and was produced in Holland. Because it is no longer kosher it is unsuitable for religious purposes in the synagogue. Now it will be used as a pedagogical tool to help Gateway students better understand the transmission and use of the Old Testament throughout history.
"We are thankful for the generosity of donors who continue to support our mission of shaping leaders who expand God's kingdom around the world," Iorg said.
"Whether those gifts grow our scholarship base, improve our educational capabilities or literally send students around the globe, each is evidence of God's provision at Gateway Seminary."
Trustees approved a half-year sabbatical request for Dr. Jim Wilson. Professors Martin Chien, Don Dent, Michael Kuykendall and Paul Wegner were each granted senior professor status upon their retirements this summer. Trustee officers elected for 2023-2024 are Phil Kell, chairman, Kevin Carrothers, vice-chairman, and Steve Long, secretary.
--30--