Gateway Seminary professor and missionary Lisa Hoff dies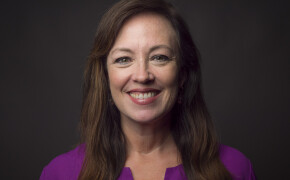 Lisa Hoff, professor and former missionary, died September 21, 2020, after a sudden illness.
ONTARIO, CA -- Lisa Hoff, professor and former missionary, died September 21, 2020, after a sudden illness.
Dr. Hoff served the seminary most recently as the director of the Kim School of Global Missions and as associate professor of intercultural studies. She was an alumna of Gateway Seminary, having earned both a master of divinity and a master of intercultural studies in 1998.
Prior to her faculty appointment at Gateway, Dr. Hoff worked in East Asia for 15 years as an educator, intercultural trainer, and business entrepreneur. She also served on the board for two global training organizations and provided seminary education to Christian leaders in countries around the world.
"Lisa was committed to serving Jesus Christ and equipping others to do the same. Her life demonstrated a resolve, intelligence, and sincerity in sharing the gospel which inspired us. Her untimely death is a devastating loss for all of us," said Jeff Iorg, president of Gateway Seminary.
Hoff assumed leadership of the Kim School in August 2020 after teaching for more than ten years in the department. She served twice as a professional-in-residence (PIR) at Gateway, first in 2006 and again in 2010. Following her second stint as a PIR, Hoff was appointed as a full-time faculty member at Gateway in the Kim School. Drs. David and Faith Kim established the school to prepare students to share the gospel in increasingly diverse cultural settings. The Kim School launched in 1996, Hoff's second year as a seminary student.
While studying at Gateway, she planned and led short-term mission trips to East Asia for fellow seminary students. She also led ethnographic research excursions in both West and South Asia.
Dr. Hoff received the William O. Crews Presidential Leadership Award, the highest honor the seminary bestows on a student, when she graduated in 1998. She also received the Jack O'Neal Award in Intercultural Ministry for outstanding service in a cross-cultural ministry as a student.
After seminary, Hoff relocated to East Asia where she supervised the work of multicultural and multinational teams engaged in strategic planning and cultural engagement throughout the region. Her experience eventually led Hoff to pursue a Ph.D. in intercultural studies through Biola University. Her doctoral research focused on sociological consequences of rapid urbanization in East Asia's fastest growing urban centers.
"Dr. Hoff brought a high level of professionalism to her role as a faculty member and director of the Kim School of Global Missions." said Don Dent, Baker James Cauthen professor of world missions at Gateway and former director of the Kim School.
"However, it was her concern for students and their future impact on the world that stands out in the minds of so many. Lisa was for many of us, the very best of our own students who were now investing in the next generation," he said.
Memorial service plans are pending and will be announced as they are available. Gateway has created a place to share remembrances of Hoff at www.gs.edu/hoffmemorial.
--30--