Gateway Seminary alumni gather for annual luncheon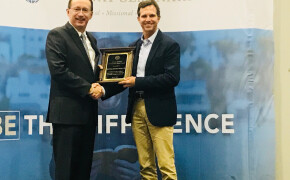 Jeff Iorg gives progress report on Gateway Seminary's financial health and reveals two biggest challenges. Ezio Leite and Bart Physioc honored as distinguished alumni.
About 150 alumni and friends of Gateway Seminary gathered for their annual luncheon at the Southern Baptist Convention in Dallas June 17. Attendees heard reports about the seminary's progress and honored two men as distinguished alumni.
In light of recent discussions in the SBC, President Jeff Iorg reminded the crowd that the board of trustees owns the seminary on behalf of the Southern Baptist Convention.
"Everything about the school is available to every trustee. We give them reports from every area, but we always remind them they can have access to anything they want. In my 14 years as president at Gateway, we have never had a complaint that had any criminal overtones at all. With 150 employees and 2,000 students, we do have occasional comportment issues that do not involve the law but are addressed by policy. Every one of those issues was satisfactorily resolved."
Iorg said the seminary currently faces two challenges.
"With all the good things and with all the progress Gateway Seminary has made, our challenges are twofold. First, the seminary must adapt to changing enrollment patterns. We are still attracting large number of students, many of whom are taking one class, so we must adapt in terms of flexible class offerings and adjustments to the faculty. Students take the number of classes they can afford to take and the number of classes they have time to take. Many are in their 30s and already have families and ministries. The full-time student is very much in the minority in the total student body. We must continually work to meet student needs."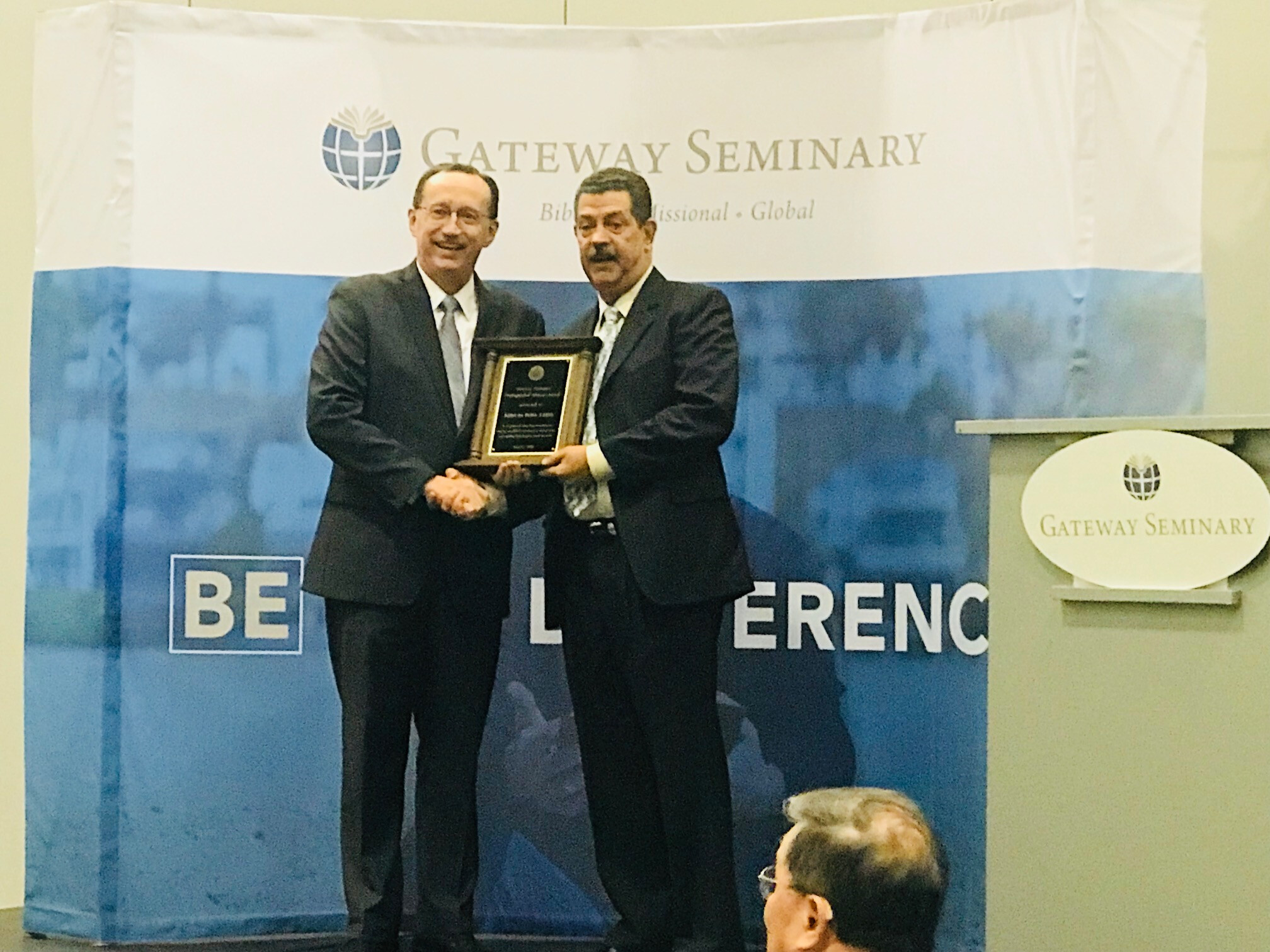 Leite receives his distinguished alumni award from Dr. Iorg at Gateway's friends and alumni luncheon.
Above: Physioc receives his distinguished alumni award.
Iorg said the second challenge was one students face in paying tuition.
"In the service industry — where many students work as they study — and in ministry jobs, compensation hasn't gone up much. What students say to us is that they have to find a way to pay for seminary. We need your help in raising the scholarship funds we need."
He also asked attendees to send students.
"We survey students. They say they came to Gateway Seminary because someone they respect recommended us. Did you know that many people that come to seminary are intimidated? You have influence over those who need to study with us. Say to them 'have you thought about seminary? Don't assume you can't go or you can't find the money go. Let's pray about it.'"
Iorg said when the seminary relocated to Southern California, administrators knew it would take a full year to work through the transition but that it actually took two years.
"We just adopted the first operating budget that does not have a relocation lie item. Gateway's financial health is very strong."
Iorg recognized Distinguished Alumni Award winners, including Ezio Leite and Wray Bartlett Physioc III.
Leite serves as executive director and senior clinician of Psychotherapy Services and Yokefellows. He is a clinical member of the Texas Association for the Treatment of Sexual Abusers and was appointed by Texas Governor Greg Abbott to the Council on Sex Offender Treatment. Leite received a bachelor of arts degree from Dom Bosco College of Philosophy, a master of religious education degree from Gateway Seminary and a master of education from the University of North Texas. He and his wife Elizabete established an endowed scholarship at Gateway to assist students seeking education in biblical counseling.
Physioc serves as the civilian pastor of the U.S. Naval Academy Chapel. He accepted Christ in 1977 while on assignment with the U.S. Coast Guard in Guam. Later, while stationed in Sausalito, Calif., he attended Gateway Seminary, receiving first a master of religious education degree, followed by the master of divinity and doctor of ministry degrees, which were awarded concurrently. Physioc also planted Mt. Tam Christian Community Church in Marin County, Calif. In a 25-year career in the U.S. Army, he has been awarded the Legion of Merit, the Meritorious Service Medal with Five Oak Leaf Clusters, the Army Commendation Medial with One Oak Leaf Cluster and the Army Achievement Medal with Three Oak Leaf Clusters.
-30-