Colorado oilman Conley Smith dies at 83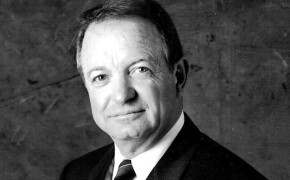 "When we get to heaven, we will be surprised who the really important people really were," said Jeff Iorg, president of Gateway Seminary. "Conley Smith will make that list."
Conley Paul Smith was an avid Oklahoma Sooner fan, a successful oil executive and an active member of Bear Valley Church in Lakewood, Colo. When he died unexpectedly on April 21 at age 83, he was not famous — but his influence will live on.
"When we get to heaven, we will be surprised who the really important people really were," said Jeff Iorg, president of Gateway Seminary. "Conley Smith will make that list."
A native of Louisiana, Smith graduated from Louisiana Tech University with a degree in petroleum engineering, followed by a master's degree in the same area from the University of Oklahoma. He worked for oil companies early in his career but became an independent oil producer in 1969, winning the Wildcatter of the Year award in 1988 and honored as the Denver Petroleum Club "Man of The Year" in 1989.
Among his many achievements is his work in the founding of one of Gateway Seminary's regional campuses.
"Conley was the reason Gateway Seminary has the Rocky Mountain Campus in Denver, Colorado," Iorg said. "He was on the task force that completed the study, raised the money and made the recommendation to start the campus. Truth be told, he was the person who gave most of the money to launch the campus. Without him, there's no campus. And that wasn't enough. Two years ago, he made another significant matching gift (which has been matched) to strengthen our efforts at training leaders for and from the Rocky Mountain region."
Iorg noted that Smith invested in people and projects that would make long-term impact. He believed schools were essential to training leaders and invested in them — with his time and money. He served on the board of visitors for both the College of Engineering and the College of Earth and Energy at the University of Oklahoma.
"He knew organizations, including churches, rise and fall on leadership. Conley invested where leaders are shaped for future effectiveness — and that included Gateway Seminary."
Iorg recalled a trip to Israel a few years ago, when Smith used the historic impact of the sites they visited to remind Iorg about the importance of generational impact.
"He challenged me to balance tomorrow's insistent demands with the future's unrealized opportunities. I am a better man and a better leader for having known Conley Smith."
Gateway Seminary honored Conley and Carolyn Smith with the Lifetime Achievement Award in 2001and the Harold K. Graves Distinguished Service Award in 2006 for their long-term service to the seminary.
Smith is survived by his wife of 51 years, Carolyn McNabb Smith; four children: Shannon (John) Marshall, Matthew Conley (Heather) Smithrock, Andrew Smith and Tyler (Kimberly) Smith; six grandchildren: Nathan Marshall, Jacob Marshall, Nico Smithrock, Luka Smithrock, Asher Smith and Annabelle Smith; and his siblings, Nancy (Sid) Springer, Martha Holloway (Bob) Hershey and Betty (Gene) Miller.
He was preceded in death by his parents, Conley Carl and Agnes Robertson Smith, his sister, Cherry Lynn Smith and a brother-in-law, O'Deane Holloway.
The family will receive friends to share memories on May 5, 2018, from 4 to 7 p.m. in the Horan & McConaty Family Chapel, 1091 S. Colorado Blvd., Denver, Colo. A funeral service to honor Conley's life will be held at 11 a.m., on May 7, 2018 at Bear Valley Church, 1001 W. Jewell Ave., Lakewood, CO 80232. In lieu of flowers, memorials are suggested to Gateway Seminary Rocky Mountain Campus, 7393 South Alton Way, Centennial, CO 80112, https://give.evertrue.com/gateway/donate-now-rocky-mountain-campus.
-30-