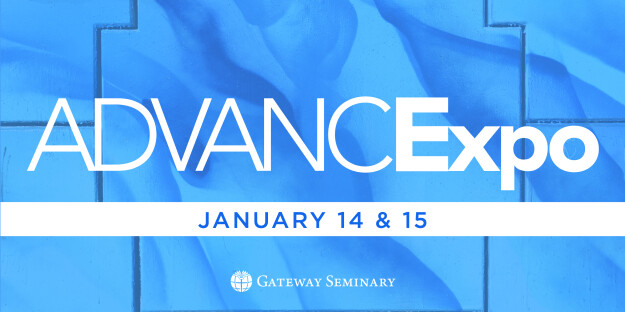 ADVANCE Expo
Thursday, January 14, 2021, 8:30 AM - Friday, January 15, 2021, 4:30 PM
ADVANCE Expo
Current and prospective ADVANCE directors, instructors, and registrars are invited to our annual gathering to learn, fellowship, and network at Gateway's Los Angeles-Ontario campus.
Come hear from some of our prolific speakers on January 14 and 15. If you are unable to attend in person, join us online via Zoom!
Reserve Tickets
Sessions will cover our Intermediate Christian Studies certificate program, ADVANCE administration, financial management, recruitment, promotion, registration, and more!
Schedule
Thursday | 8:30 a.m. to 4:30 p.m. (For current ADVANCE educators)
On this day, current ADVANCE educators can attend "How To Teach . . ." Intermediate Christian Studies courses and learn about current resources related to these classes, as well as tips and tricks to getting students engaged with these topics. Christian Studies include Old and New Testament, theology, and church history.
Friday | 8:30 a.m. to 4:30 p.m. (For ADVANCE leadership and students)
On this day, ADVANCE leadership and students participate in distinctive areas. Both prospective and current students will get a chance to sample the Intermediate Christian Studies courses and experience engaging introductions to these topics. Leaders can participate in sessions about the various operational and administrative responsibilities of an ADVANCE center such as establishing a new center, registration, marketing, recruitment, and financial management.