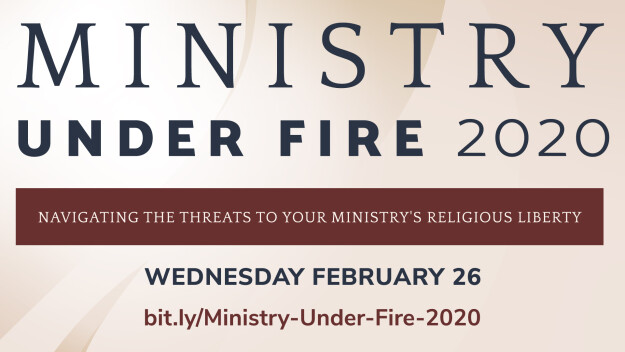 Religious Liberty Conference
Wednesday, February 26, 2020, 8:45 AM - 2:45 PM
Advocates for Faith & Freedom and Gateway Seminary are co-sponsoring the upcoming Religious Liberty Conference. This year's theme is "Ministry Under Fire: Navigating the Threats to Your Ministry's Religious Liberty."
Ministry Under Fire 2020 is a conference created to help pastors and church Leaders understand the cultural challenges that face ministries today and in the future. Ultimately, helping pastors navigate a turbulent culture and legal system seeking to reduce and prevent the gospel message.
Special keynote speakers include Eric Treene, special counsel to the Trump administration; Robert Tyler, managing partner at Tyler & Bursch, LLP and president of Advocates for Faith & Freedom; and Dr. Jeff Iorg, president of Gateway Seminary. After the keynote session, we will have break out sessions that will cover many topics that face the Church today.